MDMA or ecstasy is a popular rave drug used in party circuits to generate euphoria and become more sociable. Researchers from the University of Exeter and University College London have also been studying this recreation drug of abuse for its possible medicinal use in post traumatic stress disorder (PTSD) and alcohol de-addiction.
This new study from the Psychopharmacology and Addiction Research Centre (PARC), University of Exeter, shows that mild MDMA can increase feelings of empathy among users compared to users of other drugs such as cocaine, cannabis or ketamine. The results of the study were published in the latest issue of the Journal of Psychopharmacology.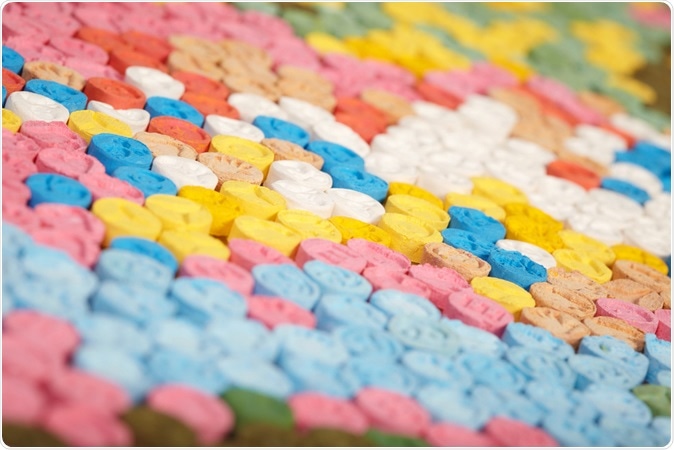 MDMA (Ecstasy). Image Credit: Couperfield / Shutterstock
Researchers from the University of Exeter explain that studies have shown that MDMA in PTSD is capable of handling and recovering from painful memories. MDMA-assisted psychotherapy has also been studied with encouraging results in alcohol de-addiction. Autistic people with social anxiety have also been found to be helped with MDMA that increases their social adaptability. However these are short term and controlled studies with not much understood regarding the actual mechanism of how MDMA helps in these cases.
The researchers included 67 participants in their study where 27 were using MDMA and 19 were taking other drugs and 23 were using only alcohol. The MDMA users in the study used MDMA only around once a month and were termed mild MDMA users. The participants were given a questionnaire and a computer task to assess their cognitive and emotional empathy and sympathy. Results showed that those using MDMA scored higher on cognitive empathy which means that they correctly identified the emotions of others compared to other drug users.
Authors of the study explain that in their study the MDMA users were mild users and this could be replicated in therapeutic settings. They add that in their study the users were buying the MDMA off the street which is often contaminated with other impurities and substances. In a therapeutic setting pure MDMA along with psychotherapy could be tried as treatment for various mental health conditions, they explain.
Lead author on the study, Molly Carlyle said, "It has been suggested that MDMA, combined with therapy, might be an effective treatment for psychological trauma and alcoholism, but it has previously been suggested that MDMA may cause heightened social distress. We recruited long-term but mild users (a minimum of 10 times), in order to reflect doses that may be used for medical purposes."
Authors write that they do not claim that MDMA makes people more empathetic but suggest that this study can open up research to understand the effects of MDMA over long term on psyche and its possible use in mental health disorders.
Celia Morgan, senior author of the study said in a statement, "We can't say whether differences in empathy are due to taking MDMA, or whether there were already differences in the people who use MDMA and those who don't before they started taking the drug. But importantly this study suggests that MDMA may be used safely as a treatment without side effects on these crucial social processes."
Source:
https://journals.sagepub.com/doi/abs/10.1177/0269881119826594
Video fragment