Almost all types of housing and living facilities house mice. Researchers have found in their year-long study on New York City mice that many of these carry on them deadly bacteria and viruses. These bacteria could be resistant to antibiotics and thus they may cause life threatening infections in humans.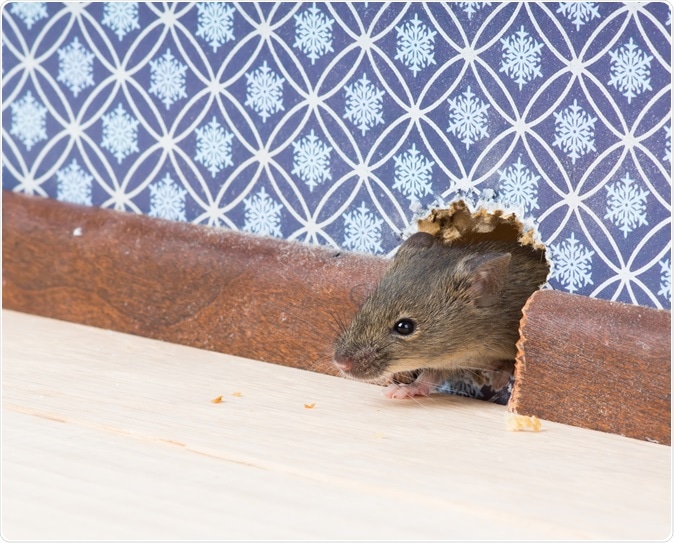 House mouse (Mus musculus). Image Credit: IrinaK / Shutterstock
Dr. W. Ian Lipkin, one of the main authors of the two papers resulting from the study, and a professor of epidemiology at Columbia University's Mailman School of Public Health, explained that droppings from these mice may contain these superbugs or bacteria that cannot be killed using routine antibiotics. He said that all contaminated areas should be cleaned thoroughly and all food that has come in contact with these need to be discarded effectively. The studies were published in peer reviewed journals including one in mBio, the journal of the American Society for Microbiology that came out yesterday 17th of April 2018. This study was titled, "New York City House Mice (Mus musculus) as Potential Reservoirs for Pathogenic Bacteria and Antimicrobial Resistance Determinants."
For this study the team collected 416 mice from seven sites in four of the five boroughs of New York City. The mice were obtained from residential buildings, the authors of the study state. Staten Island was excluded. The mice were obtained and captured from in and around the garbage disposal areas and five of the mice were captured at food storage and preparation areas of commercial buildings. One mouse was captured from a private apartment as well. The bacteria and bugs present in the droppings of the captured mice were analysed by the team next. The researchers ran genetic tests and found 235 general and 149 species of bacteria. Common bacteria they isolated included Clostridium difficile, Shigella, E. coli and Salmonella. These bacteria are responsible for causing severe gastrointestinal infections and illnesses including typhoid fever. They also gathered from the genetic analysis that these bacteria were mostly resistant to the commonly used antibiotics. This means that when they would infect humans around them, they are likely to cause infections that are difficult to treat and may thus become life threatening explain the researchers.
The second paper that came out of this research was to assess the viruses present in the mouse droppings. The team found 36 different viruses and of these 6 were new ones. As of now these viruses are not known to infect humans but their genes reveal that they can be infective for chickens, pigs and dogs. These viruses thus have the capability to jump from infecting one species to another and may also someday be infective for humans.
According to Lipkin, most of us are wary of rats infesting a residential locality and mice are often overlooked. But this survey is the first of its kind that shows that mice can be more worrisome as they can live indoors and contaminate the environment of humans. Lipkin, who is also the director of the Center for Infection and Immunity Columbia University, New York, said that this was a substantial work.
Lipkin and other experts believe that despite the fact that this study was done in a small geographic location relatively, the impact may be extrapolated to most urban regions. Lipkin explained that the next step of this study would be to trace back if any of the ouytbreaks of infections could have originated and spread via the mice.
Reference: http://mbio.asm.org/content/9/2/e00624-18
Related videos on Youtube.com