By Dr Ananya Mandal, MDMarch 13, 2018
A new study has found certain genes that predispose a person to develop insomnia or sleep problems. This was one of the largest genome wide studies undertaken on insomnia. The study led by psychiatrist Murray Stein from the University of California San Diego was published in the latest issue of the journal Molecular Psychiatry.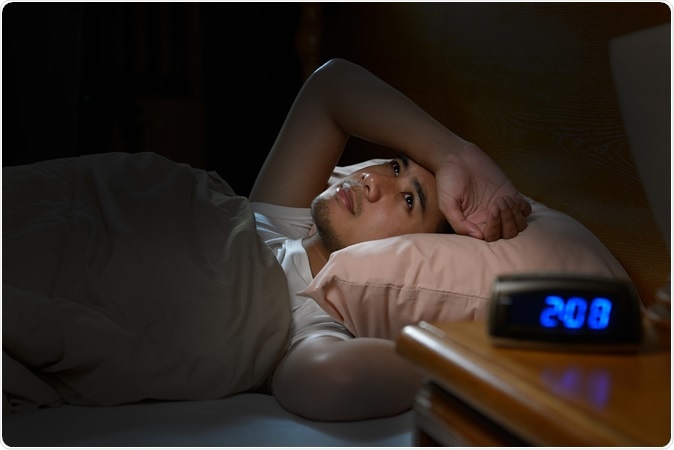 Image Credit: Amenic181 / Shutterstock
Insomnia affects around 30 percent of Americans in the short term and 10 percent Americans have chronic insomnia. Sleep problems lasting for at least a month is termed chronic insomnia. Stress, abnormal working schedules, lack of activity etc. are associated with sleep problems.
The study authors write that one in five Americans have sleep problems that can range from mild to severe. An adult requires 7 to 9 hours of sleep each night to remain healthy. Sleep problems are particularly worse among US military veterans who are twice as likely to suffer from sleep disorders. It is because of this higher propensity of veterans to suffer from insomnia that the study included data from the "Army Study To Assess Risk and Resilience in Service members (STARRS)" including data for mental health risk among the US military personnel. DNA samples were obtained from the over 33000 participants. Stein and his team then conducted a genome-wide association study (GWAS) to look at the connection between insomnia and genetic traits. They then compared the obtained genomic data with genetic data from 500000 individuals from the US Biobank.
Results showed that there some specific mutations occurring over the chromosome 7 (called q11.22) among those of European descent that led them to be more susceptible to insomnia. There were certain mutations on chromosome 9 (RFX3) as well that were associated with sleep problems. The chromosome 7 mutation is near a gene called AUTS2. This gene is responsible for alcohol intake regulation and also development of the brain and signals for falling asleep. Stein says that the genes they found to be affected are those that are linked to sleep and circadian rhythms. Their changes are significant.
Stein explains that those of European descent are also more likely to have certain genetic traits that make them more at risk of depression and sleep disorders. "The genetic correlation between insomnia disorder and other psychiatric disorders, such as major depression, and physical disorders such as type 2 diabetes suggests a shared genetic diathesis for these commonly co-occurring phenotypes," he said. More studies are necessary to understand the exact molecular mechanisms he said.
There has been a similar study last year where DNA from 110,000 participants showed distinct seven gene variations that are associated with insomnia. These genes were also associated with depression, anxiety and loss of sense of well being. Another study looking at the genomes of 1.3 million individuals is on the cards to associate specific genes with insomnia and sleep problems along with other psychiatric problems. Researchers say that at present there are 956 genes that have been implicated in causing insomnia and psychiatric problems although all of them are not yet validated.
Source:
https://www.nature.com/articles/s41380-018-0033-5
Related videos on Youtube.com